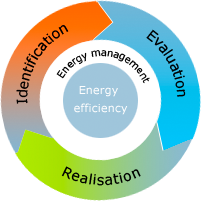 What we do
Our range of services concentrates on the energy factor all along the value adding stream at the company: from the analysis and evaluation of all energy flows, to the identification of energy saving potential, to the elaboration of actual improvement measures. And of course, our services also include profitability analyses, supervised implementation of efficiency measures, and personnel monitoring and qualification.


Energy audits and energy efficiency packages
Efficient energy management is based on a systematic inventory of all energy consumers at a company. We provide transparency to the energy flow of your plant and production facilities and allocate the incurred energy costs unambiguously to their originators. We deliver our findings in the form of energy efficiency packages for every large consumer in production and the infrastructure. These include cost-benefit analyses and action plans for implementing the measures. Our consultation services also extend to the continuous monitoring of energy consumptions at your company for the purpose of enhancing efficiency even further.
Small and medium sized enterprises can also benefit from KfW subsidies for energy efficiency consultation services and efficiency enhancing investments. Our KfW accredited consultant assists companies in submitting their requests for these subsidies.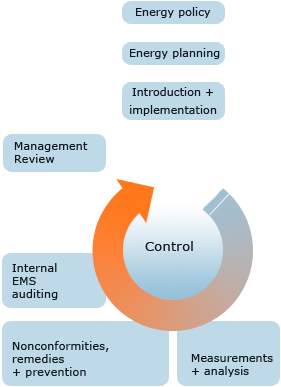 Energy management systems
Supported by a fully functional energy management system, a company is in a position to subject its energy performance to a continuous improvement process and, at the same time, to fulfil e.g. all of the legal requirements. We implement an energy management system at your company according to an energy audit we conduct previously. This includes a detailed depiction of the initial energy situation, an evaluation of the production facilities' energy performance, adherence to legal provisions, the generation of documentation, internal audits, and the preparations for the management review.


Closed loop of energy management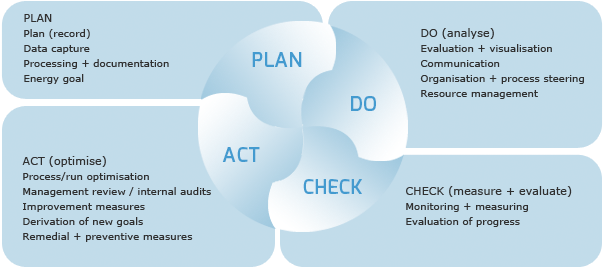 Training courses and seminars
The sound integration of an energy management system at a company needs both qualified employees who are responsible for all energy efficiency measures in their fields and managers who direct the entire procedure.
We host training courses that address specifically the particularities of your production and management structure. From the basic presentation "Energy management" to training for internal auditors, we make you fit to use energy intelligently.